Welcome to All About Hannah and Hayden the Official Site for Hannah and Hayden Jacklin. You may recognize the girls from their numerous commercials for companies such as Chrysler and IBM, or from one their numoerous print campaigns and other works. Here you will find all the news and up to date information about these talented young actresses. For Industry Professionals looking to learn more about Hannah and Hayden, please click on their names above for an overview of information.


NEWS & UPDATES
17 Jan 2013
Persnickity
Spring is in the air with
Persnickity
! Bright colors, dresses, hats and a whole lot of fun, Hannah loved her shoot for the company! Working with the
amazing
Skye Hardwick of
Work of Heart Photography
she enjoyed posing for the camera and didn't want the fun to end. With a big
thank-you
to
Skye
we now have several new images from the shoot! The close ups of Hannah are
gorgeous
and she looks so sweet holding her flowers and looking straight into the camera. What a
fantastic
shoot, and
thank-you
Skye for such a fun day!



Posted by: Lisa
07 Jan 2013
Persnickity
What better way to kick off the new year than the release of new print images! Last year Hannah had a great time working with the
wonderful
Skye Hardwick
on the
spring
line for
Persnickity
. Today the company released a sneak peek of their new designs on Facebook and we were treated to
four
brand new images of Hannah! She is totally rockin the yellows and blues, and check out that headband. Such
gorgeous
new images and hopefully more will surface soon. This really is going to be such an
exciting
year!



Posted by: Lisa
25 Dec 2012
Merry Christmas!
Hannah and Hayden have been so
excited
for Christmas to arrive! Leaving out the milk and cookies for Santa last night, they fell asleep so that Santa would come and this morning are full of energy opening presents and enjoying the time with their family. The Jacklin family would like to wish everyone a
Merry Christmas and a Happy New Year
! No matter which holiday you celebrate, may it be filled with lots of joy and happiness, and all the best in 2013!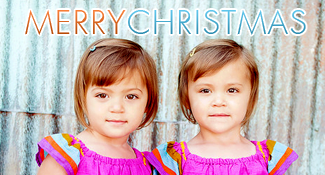 (Thanks Sarah for the banner!)
Posted by: Lisa
22 Dec 2012
Petunia Pickle Bottom
Hayden had a
wonderful
time shooting for
Petunia Pickle Bottom
. A gorgeous day outside, she was rockin a stylish outfit as she and her pretend Mom sat in the grass with their
Boxy Backpack
. Hayden was quite
curious
to what was inside, so many compartments to explore, she was right into the product she was shooting with and having a blast! Not only was the photographer capturing images for the company website, the cameras were rolling
filming
Hayden too! A
behind the scenes video
has surfaced and we get to see Hayden in action. Make sure to check it out in the
media section
.



Posted by: Lisa
<< Previous 1 2 3 4 5 6 7 8 9 10 11 12 13 14 Next >>