Welcome to All About Hannah and Hayden the Official Site for Hannah and Hayden Jacklin. You may recognize the girls from their numerous commercials for companies such as Chrysler and IBM, or from one their numoerous print campaigns and other works. Here you will find all the news and up to date information about these talented young actresses. For Industry Professionals looking to learn more about Hannah and Hayden, please click on their names above for an overview of information.


NEWS & UPDATES
07 Jan 2014
Skylar Luna
Last year Hayden did a fun shoot for
Skylar Luna
and their winter line. Leading up to the cold weather and holiday season the company shared several photos on their
Facebook page
including some of Hayden's! She could be seen laughing in her comfy cozy pajamas and having fun with friends. She was even seen on the homepage of the company's
website
too! It was such a great day on set, Hayden loves working with friends and it's always
exciting
getting to work with
Gretchen Easton
.
Thank-you
to everyone for a
fabulous
day!


What better way to start off 2014 then with some
booking news
! Hannah will be seen on the product packaging for the Anna doll for
Jakks Pacific
and their new
Frozen
toys!
Posted by: Lisa
25 Dec 2013
Merry Christmas!!
It's the big day,
Christmas
is here! Hannah, Hayden, and their older sister Madison have been counting down the days until
Santa
arrives, and they are so happy with what they found waiting for them under the tree today. Time with family, taking part in traditions, there is so much about today the girls enjoy and they hope that all of you have been having a
fabulous
holiday season too no matter which holiday you celebrate this time of year. All the best in 2014, and
Merry Christmas
!

(Thanks Sarah for the banner!)
Posted by: Lisa
20 Nov 2013
Target
Let the countdown til
Christmas
begin! Stores are getting ready for the holiday season stocking all the must have gifts, decorations, and more.
Target
has begun airing its holiday commercials in
Canada
and Hayden's is one of them! It is such a fun spot as she and her friends are jumping in the air trying to reach the toys that are hanging down. We get a
fantastic
close up shot of her, and you can tell how much fun she was having filming the
commercial
. What's really cool is that there's also a
French
version that has been airing in Quebec! Both copies of the commercial can be found in the
media section
, and it should start airing in the US soon too. Hopefully you'll get to see it on television!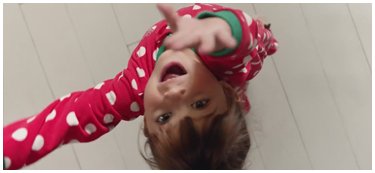 Hayden has some
booking news
! She just shot for
Limited
today and booked a
product packaging
shoot for
Target
!
Posted by: Lisa
13 Nov 2013
Happy Birthday!
What a big and
exciting
day for Hannah and Hayden today! They've been waiting for the day to arrive, too excited to fall asleep last night, and full of energy this morning because their
birthday
is now here! It's hard to believe the girls are turning
four
today, they're growing up so fast, and now they are ready for a whole lot of fun as they
celebrate
their day.
Hannah, I hope you have an
amazing
birthday today. One that is full of fun and excitement as you open presents, eat cake, and spend time with family and friends. Being four is going to be a new adventure, and you are going to have a blast!
Happy Birthday Hannah
!

(Thanks Sarah for the banner!)
Hayden, I hope your birthday is full of fun and laughter today as you
celebrate
your special day. Getting to spend time with family and friends, all of the birthday traditions your family has, it's going to be a
fantastic
day. You're going to love being four, so many fun new things you get to do!
Happy Birthday Hayden
!

(Thanks Sarah for the banner!)
Posted by: Lisa